We are so excited about summer being here finally, but our skin is not as enthused. Beauty experts will tell you that the sunshine from Indian summer is very harsh and damaging to your skin. Your skincare regime needs to be updated from winter/spring, just like your wardrobe.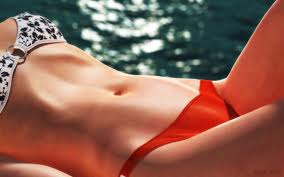 Please Wear Sunscreen
The number one thing to remember is to add sunscreen to your everyday skincare regime. There are plenty of lotions that have SPF in them, and they are great way to maintain healthy skin while protecting your skin from the sun. If you are going to be exercising or out in the water, make sure to get waterproof sunscreen. Apply it one hour before you go outside, and you will be all set for all sorts of summertime adventures.
Apply Mist to Your Face
Invest in a mist bottle to keep handy in your purse. For normal skin, rose water is a great astringent to keep your skin tone fresh. For more oily skin, fill your bottle with mists rich with lemon oils and anti-bacterial lotions to avoid breakouts. Use a moisture rich mist for dry skin that will help avoid unpleasant flakiness. The mist will feel refreshing in the summer heat, and enhance your skin's health.
Scrub-A-Dub with Body Scrubs
Exfoliating your skin is essential year round, but during the summer months exfoliating is essential. The summer sun will damage skin, leaving behind dry and dead skin cells which can lead to breakout and dull skin tone. Using the appropriate exfoliation product for your skin tone will promote a healthy tone and open up your pores.
Get Fruity!
Homemade fruit packs for your skin are a great natural way to get nutrients into your skin. Fruits contain vitamins and minerals that your skin need to thrive. Try avocados or bananas if you have oily skin; these will help open pores, deter wrinkling and keep the oil under control.
Sunless Tanning
We know that the sun and tanning beds are harmful, but we still want that summer glow. One way to get this is by using sunless tanning lotions. Even if you do not want to use them on all of your body, a little on your face can give you a nice glow. Most of the sunless tanning lotions work by alternation, you will use your regular moisturizer one day then use the sunless tanning the next. This way the tint gradually builds up on your skin.
Article provided by BoilsWiki, a website where you can find the most effective natural boils remedies.