Best Eye Shadow for Green Eyes and Red Hair
Color is key when it comes to cosmetics, and it's as important to have the right hues on your eyes as well as your face, cheeks, and lips. Keep in mind, however, that sometimes the most original and beautiful looks have been discovered by breaking makeup "rules", so don't be afraid to experiment with various colors and shades to find a new look.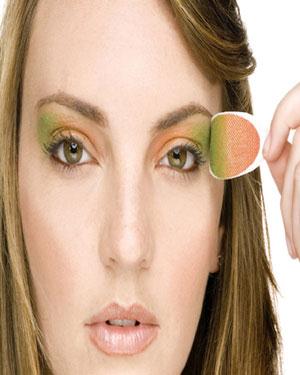 Women with green eyes and red or auburn hair traditionally have fair-to-medium skin with a warm undertone, but your skin may be darker or have pinker undertones. Those with darker skin can use deeper bronzes and dark greens, while those with paler skin may find brownish pinks and medium purple shades more complementary. Good base eye shadow and brow bone colors include shades of:
Taupe
Beige
Peach
Apricot
Coral
Tan
Cream
Carmel
Khaki
Mocha
Soft purples
Pale violets or lilacs
Lavender
Light greens
Crease or accent colors can be darker shades. Good eye shadow colors for the green eye/red hair combination include shades of these colors:
Green
Purple
Plum
Mauve
Gold
Bronze
Brown
Chocolate or mocha
Copper
Charcoals or grays with purple undertones
Burnt colors
For green eyes on the hazel side, golds, greens, and green-yellow shadows can work well. For brighter and true red hair tones, orangey-coppers and chili pepper shadow hues can complement your overall look.