The glossy eye makeup is for day time. Never ever try to wear this glossy makeup in night function.Glossy makeup is very easy and done in short time.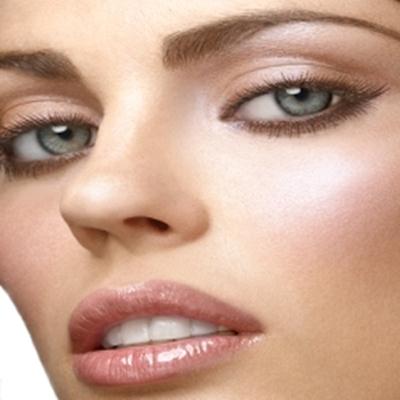 Eye makeup primer
Clear cosmetic gloss or petroleum jelly Angled eyeliner brush and black creme eyeshadow, or retractable black eyeliner Eyelash curler
Waterproof black mascara.
1-Begin with clean eyelids. It is very important that you have taken all of yesterday's makeup
off and are not wearing any eye creams prior to makeup application. The less layers you have on, the less creasing there will be.
2-Smooth an eye makeup primer all over your lids to provide extra-strength hold for your unusual eye makeup texture. Some eye makeup bases are best suited for only powder and cream formulas, but there have been a few brands that makeup lovers swear by, regardless of what is applied over the primer. You may have to engage in a little trial and error to find one that works best for you.
3-Dot a minute amount of sheer cosmetic gloss on the center of your eyelids and pat outwards in
all directions in a stippling motion. You may choose to avoid the crease so the product does not gather in that area. If you don't have any multi-purpose gloss from a cosmetic company, you can use petroleum jelly. It's a staple in makeup artist kits.
4-Define eyes through tightlining. This way, you will be bringing out the shape of your eyes without having to use an eyeliner directly on top of the gloss, which will create a major mess. Take a look at the additional resource to learn how it's done. All you need for this step are an angled
eyeliner brush and a black creme eyeshadow, or simply a retractable creamy black eyeliner pencil that glides on effortlessly.
5-Curl eyelashes to add a bit more polish to your look. Apply a light coat of waterproof mascara
to top lashes only. Leaving bottom lashes makeup-free helps you avoid the possibility of smudging and gives you less hassles considering the gloss on your lids.