Forget the wedding dress, it's the bridal lingerie that's the real fun when it comes to wedding shopping! Everyone will see you in your dress, so of course you want a great one, but it's what you wear to bed on your wedding night that has to be super special – it's for your new husband's eyes only after all!
Brides want to feel and look at their very best not only on their wedding night but throughout their honeymoon too. The style of nightwear chosen is therefore important to consider carefully – you want to feel and look just as glamorous as you did in your wedding dress, if not more so!
Bridal nightwear should be chosen to suit your own individual tastes and sizing requirements too – don't buy super sexy lingerie because you think it's what your new hubby wants, if you know you're not going to feel comfortable in it. This is your chance to let your personality and individuality shine through and look the best you you can possibly be!
Below are some tips on how to choose the perfect bridal nightwear for you…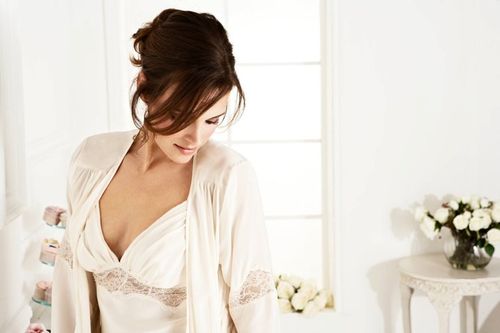 Firstly, decide what look you wish to go for that will suit your own unique style and personality.Do you want to look elegant and sophisticated, beautiful and glamorous, sexy and seductive or simple yet stunning? Comfort might also be an important factor – who wants to be uncomfortable on their wedding night after all? So perhaps that beautiful corset you've had your eye on is just not the right choice, if relaxation and comfort are top of your priorities – you can look just as fantastic in a silk or lace chemise!
Another tip for choosing the perfect bridal nightwear is to consider the various colours available to you. Most brides tend to select white, ivory or cream coloured nightwear in order to continue with the theme of the wedding and the wedding dress, but this is far from your only choice! Black is a classic and super sexy colour you might want to opt for, or perhaps you've always looked good in red or purple. Don't be afraid to shop for bridal lingerie and bridal nightwear away from the actual bridal section in the shop, which can be a bit cliché with only white and blue on offer. Just be sure that your underwear is not going to show through your dress, especially if it's particularly sheer or lacy – if that's the case, it's best to save the colourful nightwear for the honeymoon!
You should also try to choose bridal nightwear or sleepwear which you feel comfortable and confident in – if you don't feel gorgeous you're not going to look it. Confidence is the sexiest thing of all and you'll look ten times hotter in a simple set you feel gorgeous in, than looking uncomfortable in nightwear you're not happy wearing!
I'd love to hear from brides on what they chose for the big night and why…
Michelle Star blogs for Idlewild London, an online retailer of designer nightwear, loungewear and swimwear in the UK.